Our lodge is located at the 7th station of the Yoshida Route on Mt. Fuji, at an altitude of 2,800 meters.
I apologize for any confusion. The corrected translation is:

It takes 2 to 2.5 hours to get from the Fuji Subaru Line 5th Station parking lot to our inn, and 4 to 5 hours from our inn to the summit.

Additionally, our sister lodge's room, called "Ganso-Muro," is located halfway between our inn and the summit, and it takes 2 to 2.5 hours to get there from our inn. If you have a reservation for the Ganso-Muro, please let us know and we will check in with you to report your safe arrival.

Recently, more and more climbers are enjoying a leisurely climb up Mt. Fuji via the traditional Yoshida Trail starting from Fuji Kyuko Mt. Fuji Station, Fuji North Exit Asama Shrine, or at the Umagaeshi. It takes 5 to 7 hours to get from Umagaeshi to our inn.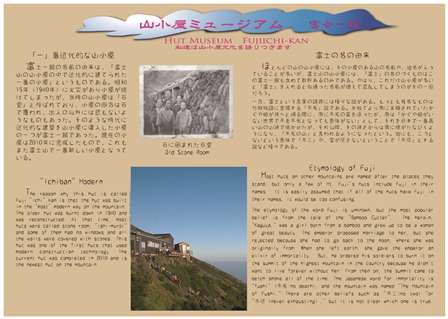 (PDF)